Playing Around Rotorua
We spent the past week in Rotorua, a North Island city famous for adventure sports and stinky geothermal sites. Perhaps no other city in New Zealand, or anywhere, has come up with more ways to thrill tourists (and make them part with money) with "adventure" broadly defined. You can luge, river raft, sky swing, sky jump, bungee jump, jet boat, kayak, off-road race and mountain bike. Plus, there's the ZORB, a giant rubber ball that bounces down a hill with a person sliding and rattling around inside it. We went on the luge and let the kids try the ZORB (just once, because of its exZORBitant prices):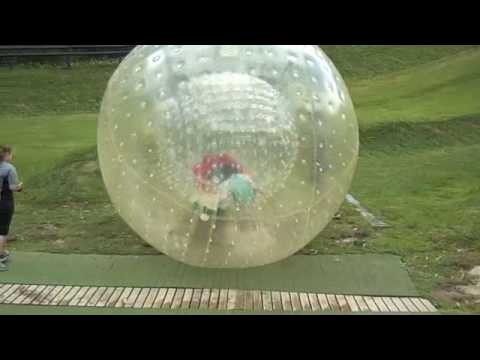 The Rotorua Tourism Board will probably be upset to hear me say these activities generally seem overrated and overpriced. Our best times around Rotorua involved spending free time for free. We rented a low-cost cabin outside of town at one of the best "holiday parks" we've come across yet (a glorified RV park and campground), on the edge of Blue Lake by a vast forest preserve, and passed the time reading, homeschooling, running, researching, cooking and playing with the kids. Morgan and I took turns doing long solo runs through the Whakarewarewa forest, aka The Redwoods, which seemed like a fairy-tale hybrid of Hawaii and California because it had the ferns, dampness and fragrance of an island rain forest amidst groves of century-old redwoods.
Then we experienced Kiwi hospitality firsthand when a mutual friend of some Northern California runners, Paul Charteris, invited us to his hometown of Kawerau near Rotorua and took us on a hike to Tarawera falls.
The double-barreled waterfall shoots out of the middle of the volcanic mountain, from a fissure created by lava, rather than cascading over a cliff. The kids didn't mind hiking uphill for an hour because the reward was so great: first the falls, then a sky-blue swimming hole with rope swings.
Paul then hooked us up with his friends, Mike and Sarah van der Boom and their two school-age girls, in the beautiful Bay of Plenty beach town of Whakatane. Their family hosted us for a couple of nights, gave us a barbecue and took us trail running. Believe what you hear: New Zealanders really are that nice!
All of this — not just our time in New Zealand, but the ways in which our lives have changed through travel —  has made me think more about the subject of play and the choices we make about how to spend time and money, particularly as a parent. Forgive me as I digress and risk sounding simplistic or superficial as I try to condense a big topic into a blog post.
We've been away from home for four months now, and I've noticed that Colly and Kyle are playing more than they have since preschool, which has been a profound and unforeseen benefit of this long-term travel. By "play" I mean filling their time imaginatively and physically, making use of whatever is around them. After we're done schooling or sightseeing, they still have hours of unscheduled free time to fill up, and TV or the Internet are limited because of our circumstances (few TV channels, shared computers and limited WiFi). So they wander outside, often to a play structure or trampoline, but they don't just swing or bounce. They make up a game or start playing characters. They get in arguments, work it out or forget about it, and then start something new on their own, or they might meet other kids from other countries and start talking to them. And they constantly are together, so much so that they joked they're developing twin telepathy.
I really didn't appreciate how much our family life has changed until the other day when I opened my calendar from seven months ago and literally shuddered when I saw the lines and lines of daily scheduled activities and obligations, much of which involved the kids. Well-intentioned parents (like me) sign children up for sports and recreational programs because we don't want them to "miss out." We want them to have fun and develop their hobbies (and to be honest, we want them to stand out as stars on the stage or on the field), and we want someone to watch them and keep them safe while we go about our lives during the day. We also are susceptible to the marketing of many extracurricular "enrichment programs," believing our kids need the help of tutors and other professionals so they can reach their potential. Ironically, all this scheduling and transporting kids to programs often makes families more stressed, more financially stretched and less available to spend time together.
Kids become so accustomed to being told what to do, and when and how to do it, that they complain about being bored if they suddenly find themselves with free time. Parents admit to looking forward to summer or winter holidays ending so they can get their kids back on a schedule and in those programs.
That was how our family was before this year away — and it may be us again when we get back. I hope not, because we were not a terribly happy bunch back then, but those real-world dynamics of our community and demographic are incredibly hard to resist. Of course we'll plug back in to it all on some level, but I'm already trying to envision a middle ground that will preserve the kind of play and togetherness we're rediscovering.
Before this trip, I was familiar with  studies touting the importance of play and warning about the downside of kids' over-scheduled, over-hurried lifestyles — but it took a genuine change of circumstances and simplifying of our lives (what travel blogger Christine Gilbert has called a lifestyle redesign) to make me fully appreciate the importance of free time and family time.
I watch Colly in particular as she revels in being a kid. Yesterday she spent most of the afternoon with Kyle doing nothing more important than digging in beach sand to build castles, and when we went inside she became absorbed in a book. Her sixth-grade friends back home, meanwhile, are managing a mountain of homework and other responsibilities while preoccupied about their appearance, friendships and who's dating whom.
What a gift, I realize with gratitude, that this year away has extended her childhood by a year, and given us more time to enjoy her — and really get to know her — as a goofy girl who's content to play with her little brother. It may be we're just delaying the inevitable and that she'll turn into a teen overnight as soon as she's sucked into the vortex of seventh grade. I hope, however, she'll be better equipped to navigate the pressure of adolescence fortified by this year — a year of living more simply and becoming more self-reliant while seeing how people in other parts of the world make do with less; a year of  just being herself and being incredibly close to her family.
The same could be said for all four of us: I sincerely hope we will re-enter life back home permanently changed and fortified by this year.
Tags: Bay of Plenty, blogsherpa, Blue Lake Rotorua, Blue Lake Top Ten Park, family travel, Holiday Parks, homeschooling, Kawerau, New Zealand, North Island, North Island New Zealand, Pacific, parenting, Piedmont, Roadschooling, Rotorua, RTW travel, Sarah_Lavender_Smith, Tarawera, trail running, travel advice, Whakarwearewa, Whakatane, Zorb