Tips for Touring Abel Tasman National Park
For those of you who'd like a glimpse of kayaking at Abel Tasman National Park but don't want to wade through last week's narrative, here's a mini-movie with the highlights of our trip. Just keep in mind that I only put down my paddle and picked up my Flip camera in the calmest of conditions, so this video really waters down the adventure we encountered at camp and sea!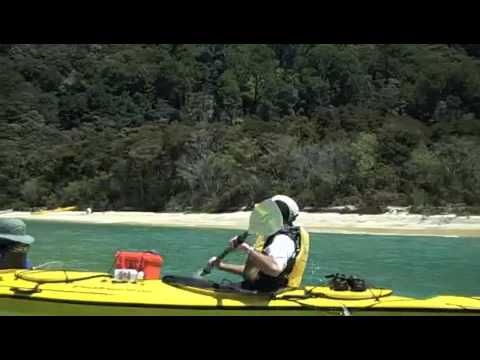 Abel Tasman National Park seems so vast and alluring, with its craggy coves and dense vegetation, that it's hard to believe it's the country's smallest national park (about 57,000 acres). For anyone planning a visit there, I offer these tips and recommendations:
Where to Stay and Eat:
The rustic village of Marahau is the starting point for most visitors to the park. Fill up on gas and groceries at one of the larger towns along Highway 60, because Marahau has just one small general store with mostly non-perishable food.
When we weren't camping, we slept at The Barn and Abel Tasman Marahau Lodge. The Barn is a campground and hostel with guests who looked half our age and probably attend Burning Man when they're not backpacking around the world. We stayed in one of the cabins, which are like storage sheds containing beds and nothing else. It was a kick to stay there and plenty comfortable, but we didn't really enjoy sharing just two toilets and two sinks with about 40 others.
By contrast, Abel Tasman Marahau Lodge really rises above the level of a typical country motel and has good value even at peak season prices. We loved our room, which had a kitchenette and patio overlooking gardens and a pasture. (Keep in mind that both The Barn and A.T. Marahau Lodge were fully booked months in advance, as are most placed during this peak holiday season.)
The Paradise Cafe right next to the A.T. Coast Track trailhead is the most popular spot to eat and one of only a couple of restaurants in Marahau. We had a good breakfast and dinner there and enjoyed the casual vibe and outdoor seating. Go there with patience, because as the owner of the lodge said about the servers, "If they were any more laid back, they'd fall over."
Where to go:
I highly recommend Abel Tasman Kayaks for a kayaking trip, but truthfully, my favorite, most fulfilling times at the park were running and hiking on the Coast Track.
All signs point to the Coast Track for good reason: It's an awe-inspiring, well-maintained trail approximately 30 miles long that hugs the coast and cuts through the dense, jungle-like forest. I ran different stretches of it at different times and discovered that, not surprisingly, it's less difficult and more crowded near the Marahau trailhead. To experience the more remote parts, catch a ride from Abel Tasman AquaTaxi and go part or all the way up the coast, and then return on your own feet.
Here are a few more of Morgan's pics from the park to supplement the ones from last week and the stills in the video:
Tags: Abel Tasman Coast Track, Abel Tasman Kayaks, Abel Tasman Marahau Lodge, Abel Tasman National Park, blogsherpa, Marahau, Motueka, Motueka to Abel Tasman, Nelson, New Zealand, Pacific, South Island, South Island New Zealand, Tasman District, The Barn Marahau