A Little Bite of Hong Kong
I have lots to share about our week in Hong Kong, but family and friends seem most curious to know about what we ate there. Here, then, is a little taste of our dining (mis)adventures in Hong Kong, with more to come about our visit in the next post.
Heading to Hong Kong, the kids' biggest concern — and curiosity — centered on what they would eat for the week. They were relieved to find that just as English is ubiquitous, so too is Western-style food. I confess we often succumbed to familiar fare, but at least we tried a few restaurants where whole fowl hung in the windows and menu items reminded us of things we feared while swimming in Australia (e.g. shark fins and jellyfish). Our real Chinese meals turned out to be nutritionally awful for the kids since they preferred heavily battered, deep-fried things bathed in sweet sauce, accompanied by mounds of white rice and washed down with orange Fanta.
Our most interesting meal actually took place at a Japanese-style grill and sushi house, where live lobsters were burned rather than boiled (it turned my stomach to see them try to crawl away) and giant whole oysters spun and twitched when they hit the heat. I captured a bit of it on video, along with Colly's comic attempt to help make fried rice: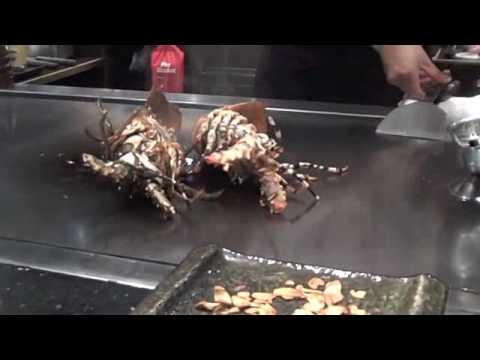 We also caught the sights and smells of authentic Chinese food at the carnival-like Temple Street Night Market, where open-air diners ate steaming plates of noodles topped with unidentifiable fried marine life that minutes earlier had been swimming in buckets on the sidewalk.
We avoided eating strange-looking critters on a stick but enjoyed lots of skewers of grilled meats. Rather than try many Chinese dishes, I was inclined to order the fabulous Thai and Indian curries offered in many different types of restaurants. My stomach held up well, but Morgan got food poisoning or caught a virus that killed his appetite for several days. For all we know, it could have been the Subway sandwich he ate that day and not the dim sum that did him in.
We ended our week at Hong Kong Disneyland, where the food is far superior to what's available at Disneyland in Anaheim — not that that's saying much, but at least we had relatively healthy Chinese-style meals there to balance out the kids' intake of cotton candy.
On our final night, we feasted on a scrumptious international buffet for Colly's birthday dinner at the Disneyland Hotel's Enchanted Garden Restaurant. We never expected premium-quality sushi, shellfish, curries, dim sum, satays, roasts, naans and creative salads at a place where Mickey, Piglet and Tigger repeatedly interrupted our meal for photo opportunities, but it goes down as our best dinner in recent memory. (Admittedly, this may have less to do with Disneyland's kitchen staff than with our need to redouble our efforts to eat like locals and try new tastes.)
Kyle's first trip through the buffet line demonstrated what an 8-year-old American boy craves after a week in Hong Kong: hot dog, plain crackers, lamb, a crab leg, and M&Ms from the ice cream topping line. To his credit, he also gobbled up some strawberries when we arrived.
Now we're headed to Barcelona, where I pledge to try weird and wonderful tapas!
Tags: Asia, blogsherpa, China, Disneyland Hong Kong Enchanted Garden Restaurant, family travel, Hong Kong, Hong Kong dining, Hong Kong Disneyland, Hong Kong food, RTW travel, Sarah_Lavender_Smith, Temple Street Night Market