Snapshots of Venezia and Treviso
We spent three nights in Venice and four in Treviso, an enchanting town about a half-hour outside of Venice that leads to gorgeous countryside. This region looks like an exaggerated version of the Napa Valley, with green hills, yellow mustard and centuries-old farmhouses. The town is famous for being the headquarters of the Benetton clothing retailer, and the surrounding valleys and mountains are famous for Prosecco wine and Asiago cheese.
Whereas Venice's charm began to wear off after two days — due to inflated prices, hordes of tourists, and the sense that most everything there is preserved for show rather than for real — I would gladly spend many more weeks here in the Treviso area. We have two wonderful hosts to thank — Berkeley transplant Serena and her Italian husband Luciano, whom we met last summer at a running event — for showing us their home and taking us to a trail race today. Molto grazie!
Two restaurants any traveler to this area should try: Al Covo in Venice (one of Anthony Bourdain's recommended hideaways) and Toni del Spin in Treviso. While I can't recommend our Venice apartment, I definitely recommend our relatively affordable little Treviso inn, Albergo il Focolare.
This past week, while I became hopelessly stalled writing a longer post describing our arrival to Venice, Morgan became ever more inspired to take exquisite photos (and to produce a silly short video, which is at the end of this). I don't want to hold back his photos or delay an update on where we're at, so consider this a sample and a promise of more to come. Meanwhile, I'll endeavor to whittle away at my long-drawn-out, only-my-parents-would-care-to-read-this longer draft.
Then we transitioned to Treviso, where more than anything else we wanted to do … laundry!
If you'd like to get a feel for our Venice gondola ride, check out this video — and blame Morgan for the choice of background music.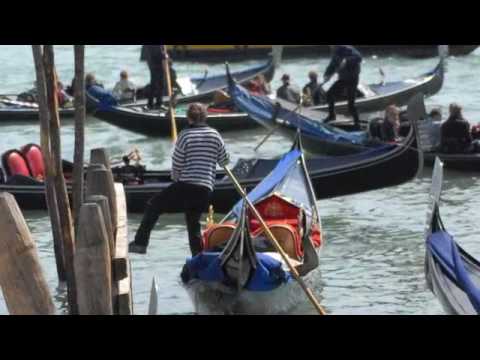 Tags: Al Covo restaurant, Albergo il Focolare, blogsherpa, Europe, family travel, Follina, Il Focolare hotel, Italy, Mareno, Piazza San Marco, Refrontolo, Rialto Bridge, RTW travel, Saint Marco Square, Sarah_Lavender_Smith, The Veneto, Toni del Spin, trail running, Treviso, Venezia, Venice, Venice gondola ride